Trading Just Got a Whole Lot Easier!


"I really do think that TTS should be renamed The Crystal Ball Trading Software..."
Maximize your winnings and minimize your losses with TTS Software.
Trade smarter, not harder, on Betfair's horse racing markets
When you are trying to trade on the Horse Racing Exchanges...

...One of the most difficult things to do is pick a runner that looks like the price is going to go the way you want it to.
There are plenty of people out there trying to tell you the right way to trade...


...But not many showing you exactly how to pick the runners in the first place.
That is about to change with the TTS (Colour Coded) software.

Since 2002 I have been creating software for the online trading community...
...One of the most popular is the
Dob Software
which was specifically created to look for runners that run well in-play.
It was while using this software I realised I was using some stats more than others...to find profitable trades...



Using the TTS 1/3 column to find a trade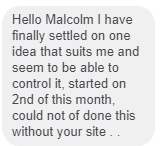 ...And I felt for "Cash Out" (And software) traders it would be great if I could make the most likely trades stand out in colour.
That is how the "Colour Coding For Extra Clarity" was created

You could now see clearly what runners were more likely to trade before the off or in-play.
"With me not being quite up on the technical side, that's why I like the TTS software so much better than the other software. you can just see everything you want at the touch of a few buttons."
See how I used the above info to find a trade.
The new simple interface allows you to quickly see each runner in every UK race 7 days a week.

Helping you find potential trades as quickly as possible.
The "
Trade Targeting Software
" is unique in many ways.

This software colour codes the market based on several statistical insights...
3 Trades on 1 green runner video.
...And gives you further information to back up what you have found.
This makes it easy to target potential trades quickly and easily.
"Software is amazing, really sorts out the good trades, loving it Malcolm"
You can see from the video's I have been sharing with you lately that the
"
Trade Targeting Software
" just makes it so easy!
"Hi Malcolm,
I'd just like to thank you, as TTS has transformed my trading. I'm Keith and it was me that posted in the cash out group on Facebook about having 24 successful trades in a row!
I have been messing around with trading horse racing (and football) on and off for a few years, with limited success, but TTS has helped me immensely.
Best regards,
Keith."

What do you get?


1. You will get the full software with all the ratings, statistics and coloured ratings to make it easy to find selections.
(Includes any updates over 10 in the last few months).


New Look Cleaner interface.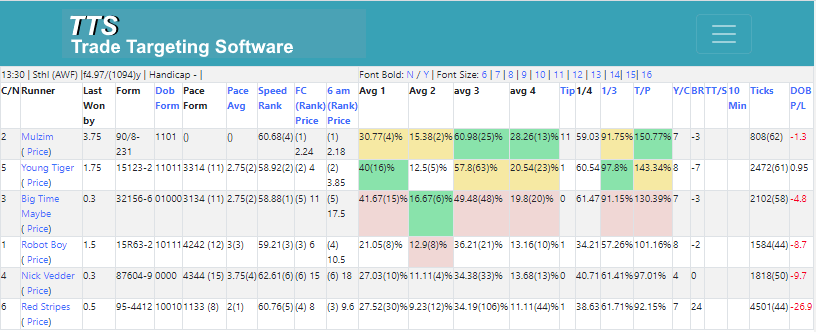 32 columns of information that are packed full of information that point to potential trades that you won't find anywhere else.
Statistical information, special scores and ranking information.
All in one place on one simple to understand screen

The Green Rated runner has even shown it can be profitable as a backed runner!

It helps to know that around 17% of green selections win anyway.
Many of these features you will not find on any other software including.

* Dob Form (Shows if the runners price drop by 50% or more in any of it's the last 5 races 0 for no 1 for yes).
* Pace (Our specially formulated Pace Form that shows how a horse ran in it's last 4 races).

* In House Speed Ratings (Formulated from races in similar events)

* Special Statistics (Including Dob % Form, Race Win %, Similar Race %. Uniquely created for the TTS software).

* Unique Scores (Specially formulated from 22 years experience of creating software)

The software also has "horse results history" (Including prices and in-play stats).

You also get 2. Growing archive of AMAZING live trading videos (40 already!)

This explains what you get a lot better than I could...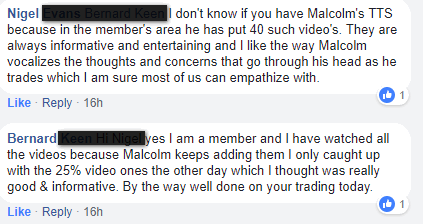 Plus you will also get:
Bonus 1
.
My 10 useful tips for trading
(Value £29.00)
These 10 tips will get you ready for trading and help you become a competent trader.

Each tip is based around my own experiences of trading over the last few years.

The tips have been designed to keep you focused on trading and how to handle different situations.

It's a great companion for any trader.
Bonus 2. Updated.
Now includes "Dashboard" and statistics to take your trading to a new level
(Value £29.00).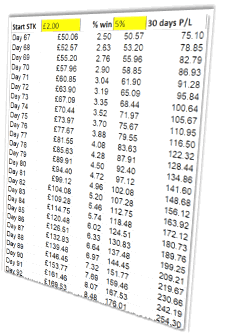 Watch the (almost) daily videos show how I use this method to grow my own stakes from a small £2 upwards.
5 Trade types you can use with the Trade Targeting Software.








1. RP Favourite. Shows you how you can use the RP Favourite to trade before the off. Including the best type of trade.

2. In-Play Green. One of my personal in-play favourite trades. The TTS greens are amazing when it comes to in-play trades.




3. Dan's Trading Method. See how one of the TTS members uses to the software to find his trades. His unique use of the software ensure a very high success rate.




4. Tipped by 10 or more. This trade works based on the number of tipsters who have tipped the horse to win. See how on some occasions you can use this information along with the TTS selection to trade before the off.




5. The Mix & Match Trade. Sometimes things are not always what they seem. This trade shows you how to take advantage of it.



New! Bonus 4 The "Grhobit" in-play 50% Trading method

(Value £29.00)
.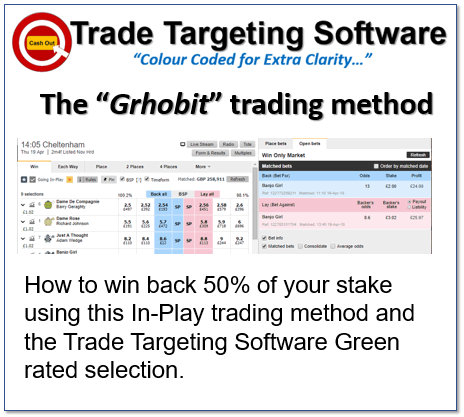 Bonus 5...Just added
(Value £39.00 could be worth £100's to you)
.
"How to" report - Get Free money (Well almost free) into your Betfair (or other exchange accounts)!

Bonus 6. Bernard's Money trades.
Bernard is well known in the Cashout Trading FB group for making £20 to £30 every day trading strong favourites.

In this bonus I reveal exactly how he does it (Includes interview questions).
That's over £170 in bonuses and they are yours to keep even if you only decide to try the TTS software for a short time.
But TTS customers come back time and time again.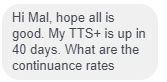 Now I haven't totally decided how much to charge for the new software but I think it will pay for itself so quickly it has to be worth £67 for a 3-month license...

...But as a limited introductory offer, you can get your hands on a copy for...
Trade Targeting Software

Just £188 £47
when you purchase today (92 days full use of software)
.
PayPal
we don't actively support PayPal but if you wish to use this method then log in to your PayPal account and then select send money. Send £47.00 it to
sales@bluebelldata.co.uk
and add the message "TTS 92 days".
Trade Targeting Software

Just £188 £97
Massive £91 saving, when you purchase today (365 days full use of software)
.
PayPal
we don't actively support PayPal but if you wish to use this method then log in to your PayPal account and then select send money. Send £97.00 it to
sales@bluebelldata.co.uk
and add the message "TTS 365 days".
"My totals for the past 4 days have been a massive 95.55% (43/45) successful trades. £60.04 Total profits (which has paid for my 1st subscription of TTS)"
Q&A.
Q. What computers does the software work on?

A. The software is browser-based (Chrome, IE, Safari, Firefox etc...) so works on any computer connected to the internet.


Q. Why do I need the software?
A. If you are serious about trading then you need to research the runners you are going to trade on.

The Trade Targeting software shows quickly which runners you should consider concentrating on.
If you are struggling to find selections that are good to trade on then the Trade Targeting Software is the tool you need.
Q. Will I automatically be charged after 3 months or 1 year?
A. No. This is a one off payment. You will get chance to re join at the same price before your subscription ends.
If you have any questions at all then please let me know.

You can contact me at Malcolm.P @ BluebellData.co.uk

Or on Facebook.


P.S. Don't forget it is limited offer and could change at any time!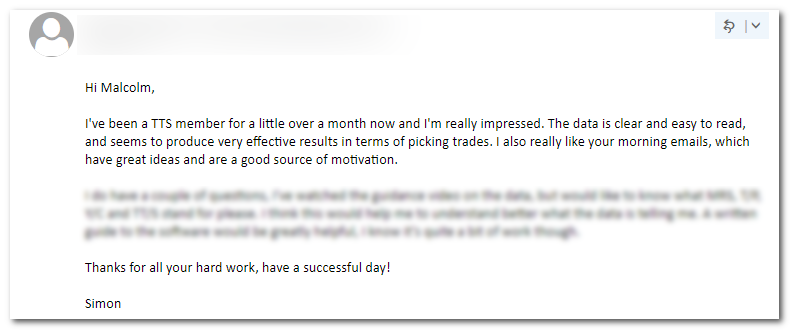 Want some more reasons to get your hands on a copy of the TTS Software?
1. Color-Coded Interface: The software provides a user-friendly, color-coded interface that makes it easy to identify potential trades.
2. In-Depth Analysis: The software provides in-depth analysis using 32 columns of information to help traders make informed decisions.
3. Real-Time Data: The software provides real-time data on odds, and price movements, at 6am, 11am and 10 mins before the off allowing traders to act quickly and efficiently.
4. Customizable Settings: The software allows traders to customize the sort priorities of each column allowing you to get to the most important information quickly.
5. Easy to Use: The TTS software is easy to use and requires minimal setup, allowing traders to get started quickly. It will work on any PC, Tablet and even a Mobile Phone.
6. Suitable for Horse Racing: The TTS software is specifically designed for Betfair sports traders who are interested in horse racing.
7. Enhanced Trading Experience: The software provides a more efficient and effective trading experience, helping traders to make better and more profitable trades.
8. Cost-Effective Solution: The software is a cost-effective solution for Betfair sports traders who want to improve their trading experience and outcomes.